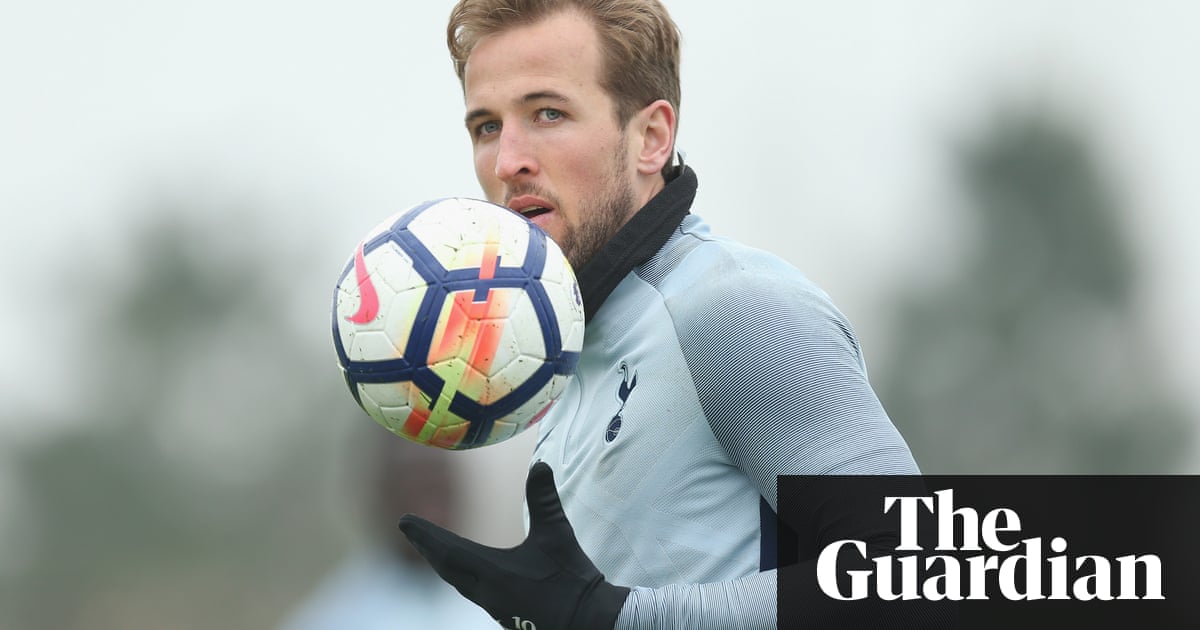 Sign up now! Sign up now! Sign up now? Sign up now!
It's hard to know who's had a worse week: bald fraud Pep Guardiola or bald-faced fraud Harry Kane. The two will meet at Wembley on Saturday, when Harry Kane Team face Pep Team in the Premier League. The Fiver thought Kane was a nice guy, but this week he has been exposed as something sinister, something chilling: a striker who is obsessed with scoring goals. In Monday's Fiver: a horrific tale of the diabolical magnate who liked money.
Yes, Kane's decision to formally claim the winning goal at Stoke was not the classiest thing he's ever done, and chucking his daughter's life into the conversation was the best David Brent line in 15 years. But unless Hotspot and Snickometer are now being used in football, nobody can say with any certainty that he didn't touch the ball. It's also a bit rich Kane getting lessons in morality from people who would lie to the self-service machine in Tesco to save 12p – especially as most of the jokes made at Kane's expense have, yep, been nicked from elsewhere. (100) add
This passive-aggressive schadenbantz is usually reserved for those who ridicule life's achievers to distract from the sour failure of their own existence. The Fiver should know: we've been doing it for years. At this rate, Kane's season will be remembered for one disputed goal rather than the gazillions he definitely scored. Still, Kane's feet have a right of reply against Manchester City. Hopefully he'll strut on to the field wearing a pair of gold-coloured boots, and celebrate roofing one from 25 yards by whipping out a smartphone and cordially inviting all of Social Media Disgrace Twitter to stick it up their Dubious Goals Panel. (104) add
It's surely time to move on and persecute some other poor sod who's done almost nothing wrong! Like that Guardiola, whose ragtag charlatans are aiming to avoid a fourth consecutive defeat. Saturday night football is not for everyone – think of the cost; you're effectively losing a booze-up – but this could be a right royal humdinger. City cannot clinch the title this weekend, unless Manchester United lose at home to West Brom, while Spurs are almost certain to qualify for Big Cup. This game is about something simpler, and in many ways nobler: winning a football match against a bloody good opponent. Anything is possible on the field. Off it, one thing is guaranteed: there will be [email protected] (119) add
"[It] did not carry out a specific risk assessment on the potential impact of the pie-eating market on the individual who had a pivotal role in determining the outcome of that market" – the Gambling Commission tells Tabcorp, which owns the Sun Bets brand, it risks losing its licence for its role in that Wayne Shaw stunt.
Yes, it's our not-singing, not-dancing World Cup Fiver. Out every Thursday lunchtime BST, here's the latest edition.
Get your listening gear around the latest Football Weekly Extra podcast.
Producing the Guardian's thoughtful, in-depth journalism – the stuff not normally found in this email, obviously – is expensive, but supporting us isn't. If you value our journalism, please support us by making a one-off or recurring contribution.
"A careful inspection of the picture of Pep Guardiola in yesterday's Fiver reveals that the real Pep is actually sitting behind the alleged 'Pep' figure with its head in its hands. This means that Pep has most likely deployed a Life Model Decoy (LMD), and no doubt it will be the LMD that will face Uefa's disciplinary procedures, attend future press conferences and/or human rights debates etc, and not the real Pep, who will in the meantime be able to continue with his World Domination Plans (or, you know, just winning the Premier League now) undisturbed. It seems that not only is Pep a football tactician of unparalleled genius, he is also a technical/scientific evil mastermind" – Kevin McKee. (119) add
"Why are Sunderland trying to stop Newcastle fans coming in to gloat at Sunderland's relegation to League One (yesterday's Bits and Bobs)? Surely making them pay for the privilege of watching some awful football is the best way to get the last laugh at the Geordies? Besides, as a Nasty Leeds fan, anything that helps dissolve the memory Bob Stokoe jumping around is OK in my book" – Jeremy Adams.
"Re: yesterday's Fiver. First of all, the cross for Juve's second goal was sent by Stephan Lichtsteiner, who came on for De Sciglio after just 17 minutes. Second, the name of the player is Mattia, not Matteo. This is The Fiver I know and love" – Roberto Rivas (and others).
Send your letters to [email protected] And if you've nothing better to do you can also tweet The Fiver. Today's winner of our prizeless letter o'the day is … Kevin McKee.
Get the best of Big Website's coverage sent direct to your inbox every Friday lunchtime (GMT). Has the added bonus of being on time. Sign up here.
It's Liverpool v Roma in Big Cup semi-finals, while Bayern Munich will duke it out with Real Madrid. "It's one of European football's top clashes," cheered Jupp Heynckes.
Speaking of Bayern, Jupp will be replaced by Nico Kovac as the German champions' manager next season. "He knows the people in charge as well as the structure and the club's DNA, whooped club suit Hasan Salihamidzic.
Bad news for Arsenal, who got the draw they really didn't want in the Big Vase semis in being paired with Atlético Madrid. Marseille face Salzburg in the other tie. "Winning a cup would be good," tooted Alexandre Lacazette, albeit before the balls were plucked. "It can be the way to keep the manager." Ah.
Po' Pep Guardiola is down to the bare bones at plucky little Manchester City. "We have 14 players plus the kids. We have problems," he parped.
Tedious VAR chat in the Premier League will be mostly parked for another year after a vote by the 20 clubs.
And Barcelona coach Ernesto Valverde wants his team to pull themselves together. "We cannot stay at home crying," he roared. "We shouldn't be thinking about what we've lost, but instead focus on what we can win."
Change was needed but Mick McCarthy deserved more respect, so says Barry Glendenning.
Memories of Ali Benarbia, the Manchester City star who could have played for Pep Guardiola.
Come get your 10 things to look out for in the Premier League this weekend.
Watching Arsenal, Nick Ames couldn't help but enjoy Danny Welbeck's fizzy concoction.
Remembering the season six British clubs made it to semi-finals in Europe, courtesy of Steven Pye.
Brighton v Crystal Palace has the makings of a humdinger, toots resident columnist Liam Rosenior.
Oh, and if it's your thing … you can follow Big Website on Big Social FaceSpace. And INSTACHAT, TOO!